solved W10: Can't add control panel menu to start menu
03-31-2018, 11:26 AM
(This post was last modified: 06-10-2018 09:30 PM by Q Section.)
Michael
Junior Member


Posts: 17
Joined: Oct 2005
Reputation: 0
W10: Can't add control panel menu to start menu
Hi
I recently switched from Windows Vista to Windows 10 and now try to re-create my confortable TLB start menu.
Unfortunately I can't manage to create an expandable control panel menu as sub menu of my start menu. I used to have this for more than 10 years with TLB on Windows XP and Vista.
The menu works on top level but not inside of the start menu.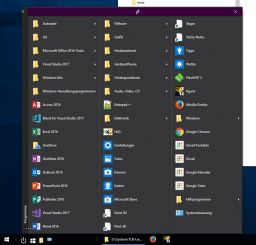 Best Regards
Michael

User(s) browsing this thread: 1 Guest(s)