Re: Windows 11 22H2 'ÄĘ 22621.2134 + TLB 8.0 [Free] / Asus ZenBook / 1200 x 1080 + 125% Scaling
Executive Summary
: TLB indeed is compatible with 'Äė11'Äô. Its power to organize access to the entire Windows system, applications, folders, and data files, is phenomenal, as it always has been. On 'Äė11'Äô TLB requires more time, planning, and patience to setup than with the prior versions of Windows. Yuri Kobets has now released version 8 of TLB with 'Äúimproved compatibility'ÄĚ for Windows 11. (However, an 'Äė11'Äô-specific Help-file and

User Manual

have not been produced 'ÄĒ yet.)
Disclosure
:
My notes here derive from building three 'Äė11'Äô systems in the past four weeks, two 27-inch A-i-O PCs and a 14-inch notebook PC.
In 'Äė11'Äô I have built a

Windows Infrastructure

to manage my workflow and aesthetic, as I have since 'ÄėXP'Äô and 'ÄėVista'Äô. TLB used to be about the first 'Äėmaster utility'Äô that I would install in a new Windows system. The others to follow would
include

xplorer
²
,

Direct Folders

,

FileMenu Tools

,

Classic

-now

Open-Shell

,

Microangelo

,

Default Programs Editor

,

Beyond Compare

,

8GadgetPack

, and

Winaero Tweaker

. However, the centrality of 'ÄėVirtual Folders'Äô to setting up TLB now has made it the last Master Utility I install, and altogether late in the application installation process.
Key Observations
: TLB runs as a

'Äė

Standalone

'

Desktop Toolbar, no longer dependant on 'Äė11'Äôs emasculated Taskbar. Planning, saving, revising the 'ÄėVirtual Folders'Äô for your TLB installation is

the

critical move in its setup operations. I
believe all the components of TLB'Äôs instantiation in prior versions of Windows remain available to deploy in 'Äė11'Äô. Obviously, on the surface, TLB as a Toolbar rather than a 'ÄėTaskbar zone'Äô or extension, looks differently now. With patient experimentation, its functionality will attain 100% equivalence to its prior incarnations. Then, it will put to shame all the stupidities and inadequacies of the idiot geniuses in Redmond who persist in mal-designing Windows.
In my original post I should have indicated the vital utility of TLB's Backup function when experimenting with a new Standalone toolbar. Multiple states can be recorded, very convenient and sometimes life-saving!
Below: As I did last year, I have been building 1-icon wide TLB toolbars because they are neat and get the job done. First level functionality of TLB remains the shortcuts set on the 'surface' of the Standalone toolbar, whatever its 'width'. These may be shortcuts to applications, Windows functions, and, of course, most famously, 'nested Menus' or Sub-menus. The last, Sub-menus, provide vast flexibility and capacity. Each of us will have our particular preferences for these items. Yet, as before '11', TLB allows reorganization of all these as dictated by experience and by the evolution of your Windows system itself. 'ÄĒ

This TLB Toolbar now displayed, 'Unhidden' on my ZenBook Desktop (still 'Hidden' at the bottom of the Desktop is '11's Taskbar, modified by
Open-Shell
, another story entirely)¬† 'ÄĒ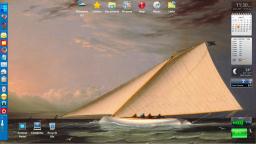 Where it all comes together: Toolbar + partially 'unpacked' Menus and Sub-menus, or in TLB terms, 'Torn Off' 'ÄĒ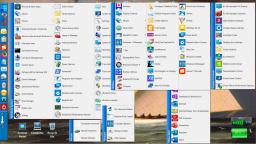 Please understand, I'm not providing more than hints how to set TLB up on '11'. My intent is to confirm (again) that it is eminently feasible, and once done
more than worth the effort
.
Final note
: Previously in this space I had suggested buying extra licenses to help support TLB
'
s development. Obviously that thought is mooted by Version 8
's

current free distribution.
This post was last modified: 08-10-2023, 05:06 PM by atitlan.