05-22-2016, 05:19 AM
(This post was last modified: 05-22-2016 05:32 AM by SolihullRog.)
SolihullRog
Junior Member


Posts: 13
Joined: Jan 2015
Reputation: 0
How to customise a menu?
So I've now got 2 menus - well actually five - see attachment.
I go to the context menu of each, and get exactly the same things.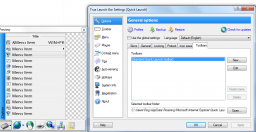 Customize Menus comes up blank. TLB Settings... comes up with the attached window from each of my menus. It shows one menu (I think). Where are the others, how do I customise them?
Page 15 in the User manual describes something that doesn't apply to my system. See my post of half an hour ago.
I tried to use 'Switch toolbar'. Please see the attachment 'Five Toolbars'.
You can see that I have 5 TLB toolbars on my taskbar but TLB only shows one.
I click another couple of buttons. Now I have no toolbars. But right clicking on the task bar and hitting Toolbars, it shows I've got five But none appears on my screen.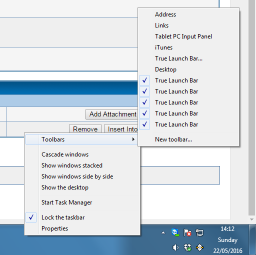 Why does it do this? Have I got two menus, five menus, or none? Where are they?
How do I customise a menu?
This is typical of a session trying to do ANYTHING to True launch bar.
IT Consultant of 40 years. Home network running more than 100 applications.

User(s) browsing this thread: 1 Guest(s)