02-15-2019, 11:36 AM
Calhoon
Junior Member


Posts: 13
Joined: Oct 2008
Reputation: 0
Справка и перевод
Пытался понять, как правильно использовать Shell-команды (В свойствах кнопки).
При нажатии на справку - ничего не происходит.
Справка в папке с программой - только на английском.
В английской справке написано
To see the list of all shell commands, click on the "…" button on the left of the field.
Смотрю в картинку справки, смотрю в окно - нету там никакой кнопки "..."
Куда нажимать?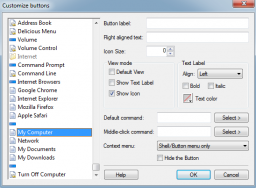 P.S. Перевод местами с орфографич. ошибками...

User(s) browsing this thread: 1 Guest(s)