09-02-2015, 10:19 AM
(This post was last modified: 10-03-2015 03:42 PM by Yuri Kobets.)
Yuri Kobets
Posting Freak


Posts: 6,171
Joined: Jan 2002
Reputation: 8
True Launch Bar v7.3
True Launch Bar v7.3 is released.
Version 7.3 contains bug fixes found in version 7.2:
Impossible to add new toolbar with custom path in the TLB Settings.
Glass effect is not working.
Incorrect chevron position with the default skin.
Some minor bugs fixed.

True Launch Bar v7.2 is released.
New features since version 7.1:
Improved Windows 10 support
Version 7.2 fixes some incompatibility with Windows 10:
* Incorrect Standalone True Launch Bar color (now the color not a same as standard but very near).
* Problems with menu transparency and the default skin.
Background color for any item
You can select the background color for any item to highlight it. Right-click any item, select Appearance->Background Color, click any color or click the "More colors" menu item to select non default color. To set colors for some items at once, right-click any item and select Appearance->Button Properties. This will open the Button Properties dialog box where you can select the color for all items.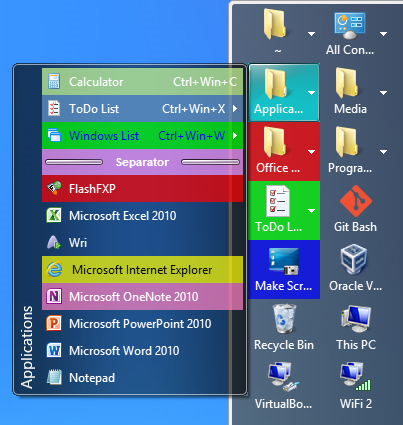 Improved related links management
The related links dialog box was improved. Now you can add the commands with two clicks only. Just select the command you want in the New button. Use drag&drop to reorder the related links in the list. Also you can add the separators and titles into the list to group the links.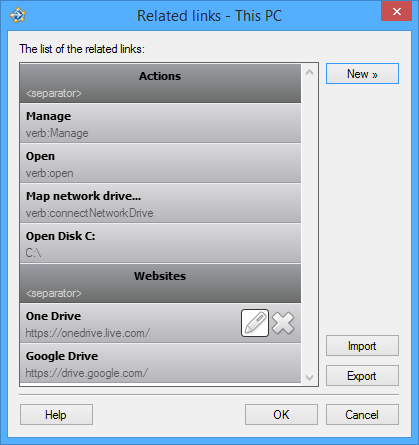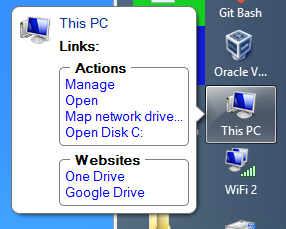 Improved Components Manager for portable version
Now you don't require to exit the portable Standalone TLB to check for updates. Components Manager will ask to exit only before installing or uninstalling new components. Also you can select option to start the Standalone True Launch Bar when installation will be finished.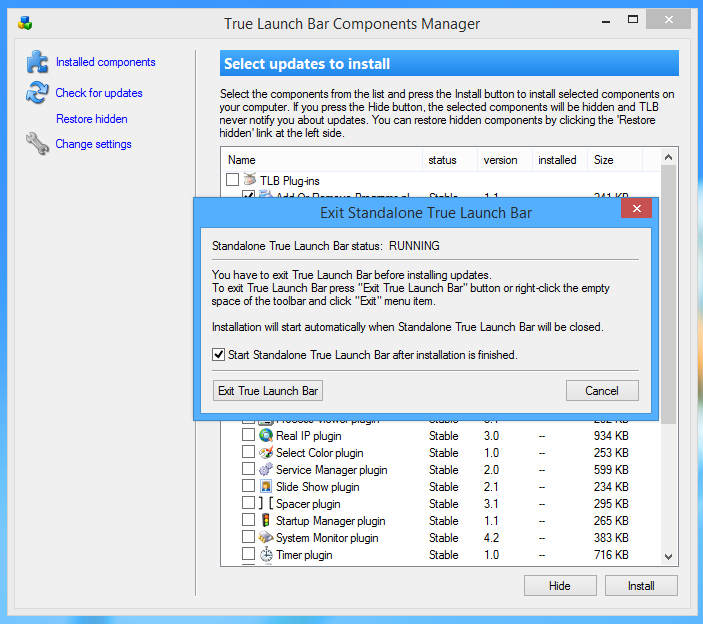 Improved toolbars management
We've simplified and improved the toolbar management. As you know, the toolbar folder it the main concept for True Launch Bar. TLB saves all settings, shortcuts, menu etc. in the toolbar folder. By default TLB uses the standard quick launch folder and this is enough for the single toolbar. When you need the second toolbar, you have to create folder for the new toolbar. Now True Launch Bar can create the toolbar folder in your profile. Just type a name of your toolbar. This working for portable versions as well. Anyway you can still select any custom folder as a toolbar folder.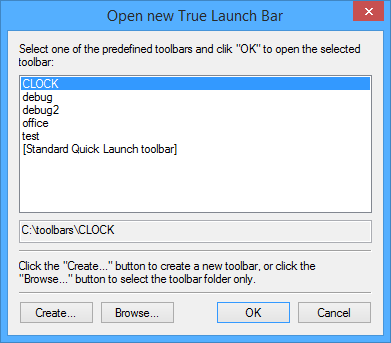 Some changes for skins makers
Now you can use HTML/CSS color formats in the skin definition file. For example this code is valid:
Code:

TextColor = 0xFFFFFF, #FFAACC, royalblue, #F00, white
Download True Launch Bar v7.3
Portable 32-bit version
Portable 64-bit version
---
The TORDEX Team
http://www.tordex.com

User(s) browsing this thread: 1 Guest(s)