Look what I've done with tlb
01-31-2014, 02:31 AM
mls
Member


Posts: 87
Joined: Mar 2010
Reputation: 1
Look what I've done with tlb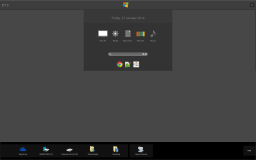 Saw
this
Windows 9 concept and started to implement it with tlb.
Right tb changes content of bottom tb.
Animated full screen menus
Panels (like the clock panel)
02-01-2014, 03:45 PM
Yuri Kobets
Posting Freak


Posts: 6,171
Joined: Jan 2002
Reputation: 8

RE: Look what I've done with tlb
This is incredible!
---
The TORDEX Team
http://www.tordex.com

User(s) browsing this thread: 1 Guest(s)